Artists-in-Residence
John Kelly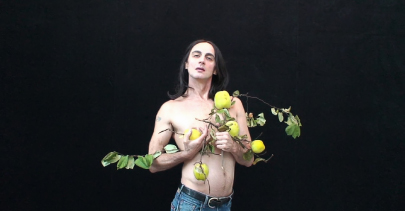 John Kelly Self Portrait Fruit Boy 1
2007
John Kelly
John Kelly is a performance and visual artist whose work includes dance theatre works, vocal concerts, and exhibitions. He explores the character of creative genius as it occurs in the gradations between the ephemeral and the tangible. Specific works have been based on Egon Schiele, Caravaggio, Antonin Artaud, Joni Mitchell, Barbette, Jean Cocteau; autobiography, the Berlin Wall, the Troubadours, the AIDS epidemic, and Expressionistic Film.
Kelly has sung the music of John Cage at the San Francisco Symphony, and collaborated and recorded with Laurie Anderson, David Del Tredici, Natalie Merchant and Antony and the Johnsons. Writings include an autobiography 'JOHN KELLY,' published by the 2wice Arts Foundation, in association with Aperture. Acting credits include the Broadway production of 'James Joyce's The Dead,' and films by John Turturro and James Franco. Awards and Fellowships include 2 Bessie Awards, 2 Obie Awards, an Alpert Award, and an Eliot Norton Award. Fellowships include NYFA, the NEA, Art Matters, Inc., The Guggenheim Foundation, The Radcliffe Institute for Advanced Study, and the Rome Prize at the American Academy in Rome. Archive: www.johnkellyperformance.org
As an Armory Artist in Residence, John Kelly's projects include:
-JOHN KELLY in CONCERT: John Kelly performs excerpts from his new performance work THE ESCAPE ARTIST, including original songs co-written with Avant Chanteuse Carol Lipnik, with additional songs by Claudio Monteverdi, Jacques Brel, and John Barry. Performed by a chamber group led by Music Director John DiPinto.
March 10, 8:00pm (doors open 7:00pm, Reception immediately following performance).
Buy Tickets
-THE ESCAPE ARTIST~STILL AND MOVING IMAGE: In conjunction with JOHN KELLY in CONCERT there will be a work in progress installation of rough-cut Video (in the Adjutant Room) and Caravaggio inspired Self-Portraits (in the Mary Diver Room), from his upcoming production.
March 11-13, Noon-6:00pm.
'The Escape Artist' is a work for solo performer and 3-channel video that traces the experience of a performer who has a catastrophic trapeze accident. While stranded on a gurney with a broken neck in a hospital emergency room, he escapes and finds refuge in the images that flood his mind: the sinners and saints, prostitutes and gods that populate Caravaggio's paintings. The full production of 'The Escape Artist' will receive its premiere at Performance Space 122.
April 20-30.
-MUSE ASCENDING A STAIRCASE: Kelly will create a series of video vignettes, each focusing on specific characters from his repertoire; shot on location at the Park Avenue Armory, this project pays homage to Marcel Duchamp's famous painting 'Nude Descending A Staircase', which caused a scandal at the 1913 Armory Show at New York's 69th Regiment Armory.
Spring 2011
-COHESION: A solo for dancer Justin Leaf, commissioned through the Mc Knight Foundation's 'Solo' Series. Created and choreographed entirely at the Armory, COHESION was premiered at the Southern Theatre, Minneapolis, July 2010.
-'COMPANY K~SALON SERIES', with special guests (Spring 2011 dates TBA).
-DISCHARGE: 50 black & white ink on panel portraits of military personnel discharged as a result of the U.S. Military's 'Don't Ask Don't Tell' policy. This project has been postponed. It will be completed after Kelly's Residency is over, but it is hoped that at some point it can be installed for viewing in one of the second floor Company rooms.
Click Here to view descriptions and photos of John Kelly's work at the Armory.
2010 Awards for John Kelly:
2010 Time Warner Storytelling Fellowship, Sundance Institute Theatre Program at MASS MoCA, MA
2010 Artist In Residence, Civitella Ranieri Center, Italy
2010 Visual AIDS Vanguard Award
2010 Ethyl Eichelberger Award
2010 NEA American Masterpieces Award, for 'Pass The Blutwurst, Bitte'
2010 NEA American Masterpieces Award, for 'Find My Way Home'
2010 Austin Critics' Table Award, for 'Paved Paradise Redux'