John Kelly in Concert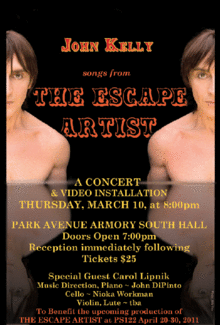 March 10, 2011
Park Avenue Armory South Hall
Doors open at 7:00pm
Reception immediately following performance.
Tickets: $25
Buy Tickets
Two-time Obie Award winning performance artist, and Armory Artist in Residence JOHN KELLY performs original songs from his new performance work THE ESCAPE ARTIST, in the first floor Board of Officers Room at the historic PARK AVENUE ARMORY. These songs, co-written with Avant Chanteuse CAROL LIPNIK, will be performed by a chamber group led by Music Director John DiPinto. Additional songs by Claudio Monteverdi, Jacques Brel, and John Barry.
VIDEO INSTALLATION: 7:00pm-10:30pm: rough-cut video projection from the upcoming production of 'The Escape Artist' in the Colonel's Room.
THE ESCAPE ARTIST traces the experience of a performer who has a catastrophic trapeze accident. While stranded on a gurney with a broken neck in a hospital emergency room, he escapes and finds refuge in the images that flood his mind: the sinners and saints, prostitutes and gods that populate Caravaggio's paintings. The full production of The Escape Artist will receive its premiere at PERFORMANCE SPACE 122, April 20-30, 2011.
For more information about John Kelly and his residency at Park Avenue Armory click here