RYOJI IKEDA the transfinite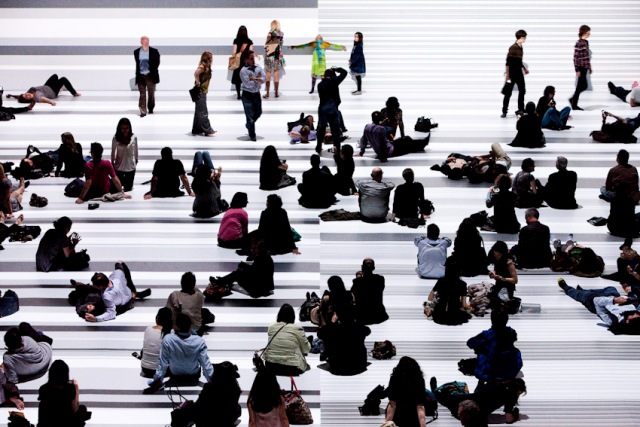 May 20 – June 11, 2011
"…spectacular, trippy and fun…the transfinite is definitely something to see and experience. Sublime spectacle." –The New York Times
"Rocks the senses…the Drill Hall…has lately become a playground for artists with outsized imaginations." –Financial Times
"...a physical manifestation of information in its rawest form." –Time Out NY
"…an extreme and elaborate visual and sonic environment." –New York Magazine

Following critically acclaimed installations by Ernesto Neto and Christian Boltanski, Ryoji Ikeda has been selected by the Armory for its third annual visual art commission in the Wade Thompson Drill Hall. Ikeda creates a visual and sonic environment where visitors are submerged in an extreme illustration of projected and synchronized data. His work uses scale, light, shade, volume, shadow, electronic sounds, and rhythm to flood the senses. In choreographing vast amounts of digital information, Ikeda conjures up a transformative environment in which visitors confront data on a scale that defies comprehension, experiencing the infinite.
This installation includes strobe effects.
See what the critics are saying about the transfinite
Download the House Program for the transfinite
Ryoji Ikeda
A Japanese sound and visual artist who lives and works in Paris, Ikeda has collaborated with such artists as choreographer William Forsythe, architect Toyo Ito, musician and visual artist Carsten Nicolai, and photographer Hiroshi Sugimoto. Shown widely in Europe and Japan, this is his first major installation in the United States. Download Ryoji Ikdeda's full bio
One guest's experience at the Ryoji Ikeda's the transfinite

A time-lapse video of installing the transfinite at Park Avenue Armory

Video of RYOJI IKEDA's datamatics provided by Forma
Co-produced by Park Avenue Armory and Forma
This program is supported by Bank of Tokyo-Mitsubishi UFJ, the E. Rhodes and Leona B. Carpenter Foundation, Ken Kuchin, Melva Bucksbaum and Raymond Learsy, and the New York City Department of Cultural Affairs in partnership with the City Council. Additional support provided by Jo Carole and Ronald S. Lauder, David Teiger, and The Surrey.

Photo: James Ewing

Follow #thetransfinite on Twitter
GENERAL INFORMATION
Open Hours
Tuesdays – Sundays: 12:00pm – 7:00pm
Thursdays: 12:00pm – 9:00pm
Monday, May 30 (Memorial Day):
12:00pm – 7:00pm
Closed all other Mondays
Special Viewing Hours for Members
Saturdays: 11:00am – 12:00pm
Admission
$12 General Admission
$10 Students (with ID), Seniors (65+),
Groups (8 or more)
FREE: Children 10 and under
FREE: Park Avenue Armory Members
Buy tickets by clicking on the button below, by calling the Park Avenue Armory Ticket Hotline (212) 933-5812 (9:30am – 6pm M-F)
or at the door during open hours.
Family Programming
Imagining Infinity: Decoding Your Family Data through Art
For families with children ages 5-12.
Saturday, May 28
Sundays, May 29 and June 5
10:00am – 12:00pm
$5 Materials fee per participant
FREE for Park Avenue Armory Members
Interactive "data collection" stations led by teaching artists encourage participants to work both individually and collaboratively to craft works of art in response to the transfinite.
Pre-registration required.
For more information and to register,
click here or call (212) 933-5803.
Public Programs
Artist Talk: Ryoji Ikeda
in Conversation with Kristy Edmunds
Saturday May 21, 2011
2:00pm
THIS PROGRAM IS SOLD OUT!