Artist Talk: Ryoji Ikeda in Conversation with Kristy Edmunds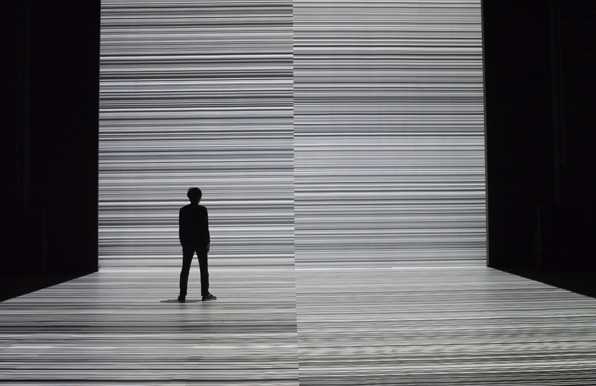 May 21, 2011
Veterans Room
THIS PROGRAM IS SOLD OUT!
Please join us at the installation.
Join Ryoji Ikeda, in conversation with Armory Consulting Artistic Director Kristy Edmunds, for a rare and informal discussion about his artistic process, collaborations, and the ideas informing his work including the creation of the transfinite.
FREE with pre-registration and a ticket to the transfinite.
Admission to the transfinite
$12 General Admission
$10 Students (with ID), Seniors (65+), Groups (8 or more)
FREE: Children 10 and under
FREE: Park Avenue Armory Members
Buy installation tickets by clicking on the button below or by calling the Park Avenue Armory Ticket Hotline (212) 933-5812 (9:30am – 6:00pm M-F)
Ryoji Ikeda
Japan's leading electronic composer and visual artist, Ryoji Ikeda, focuses on the minutiae of ultrasonics, frequencies and the essential characteristics of sound itself. Fascinated by data, light and sound, he shapes music, time and space by mathematical methods and explores these phenomena as sensation, pulling apart their physical properties to reveal their relationships with human perception.
Ikeda has gained a reputation as one of the few international artists working convincingly across both visual and sonic media. Since 1995, he has been intensively active through concerts, installations, and recordings, integrating sound, acoustics, and subtle imagery. The versatile range of Ikeda's research is demonstrated by his collaborations with visual artist Carsten Nicolai, choreographer William Forsythe, photographer Hiroshi Sugimoto, and architect Toyo Ito, amongst others. In 2001, Ikeda was awarded the Ars Electronica Golden Nica prize in the digital music category and he was short-listed for a World Technology Award in 2003 and again in 2010.
Photo: Marc Domage, Courtesy of Théâtre de Gennevilliers