Thomas Jefferson: The Art of Power
Jon Meacham
November 13, 2012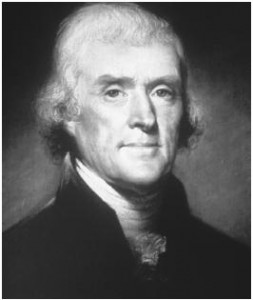 Doors Open at 6:00pm
Lecture Begins at 6:30pm
Veterans Room
Thomas Jefferson was an original thinker and a master politician who helped create and sustain the American republic. In his new book, Pulitzer Prize-winning author Jon Meacham brings to life the complete man, from birth to his last days—through the Revolutionary War and his years as president. We see the Founding Father who steered the states to nationhood, wrote the Declaration of Independence, and as a master politician president, doubled the size of America through the Louisiana Purchase. With a powerful narrative, Meacham guides us through the life and extraordinary times of a man often admired but, until now, never truly understood in all his complexity.
Jon Meacham is an Executive Editor at Random House and a former editor of Newsweek. Born in Chattanooga in 1969, he is a graduate of The University of the South in Sewanee, Tennessee. He is the author of The New York Times bestsellers American Lion (winner of the 2009 Pulitzer Prize for Biography), American Gospel, and Franklin and Winston.
The Malkin Lecture Series presents scholars and experts on topics relating to the Park Avenue Armory and its pivotal role in the civic, cultural and aesthetic evolution of New York City in the 19th and early-20th centuries.
The Malkin Lecture Series is funded by a generous grant from Mr. and Mrs. Peter L. Malkin and The Malkin Fund, Inc.
2012 Season Sponsor:


GENERAL INFORMATION
HOURS
Tuesday, November 13, 2012
Doors Open at 6:00pm
Lecture Begins at 6:30pm
TICKETS
$15 General Admission
$12 Students (with ID), Seniors (65+)
$10 Park Avenue Armory Members
Be "in the know!" Receive information on ticket sales and Armory Events by joining our Mailing List.
OR
Be the first! become a member today and receive advance notice of ticket sales and get your seats before they go on sale to the public.

You may also be interested in attending the following Malkin Lectures:
Emancipating Lincoln:The Proclamation in Text, Context, and Memory
Wednesday, October 24, 2012
Woodrow Wilson: A Biography
Thursday, November 29, 6:30pm
Seventh Regiment: A Military History
Monday, December 3, 6:30pm