Construction
Herzog & De Meuron To Revitalize The Veterans Room Originally Designed By Louis Comfort Tiffany & Co., Associated Artists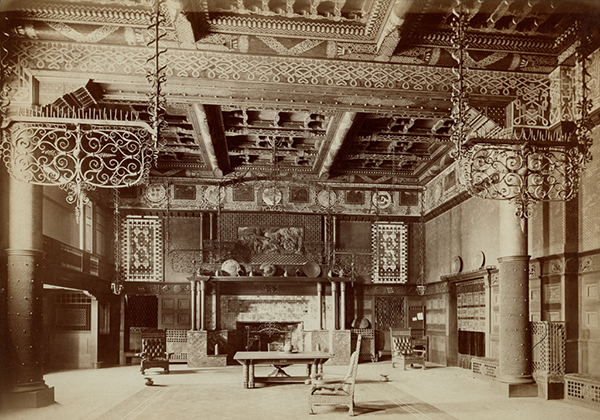 Photo of the Veterans Room from 1881.
As part of the ongoing transformation of its historic building into an unconventional cultural institution, Park Avenue Armory is beginning revitalization work on its Veterans Room, one of the few surviving interiors by Louis C. Tiffany and Co., Associated Artists, in the world. A monument of late 19th-century decorative arts, the Veterans Room will be reanimated through Herzog & de Meuron's intervention, which will transform the space into a state-of-the-art room for intimate cultural encounters, including performances, recitals, lectures, and a range of other small-scale events. The project is expected to be complete in December 2015.
Following Herzog & de Meuron's recent renovation and restoration of the Armory's Board of Officers Room and two period rooms on its second floor, the revitalization of the Veterans Room will amplify the grandeur of the initial vision for the space and sustain the forward-thinking approach that the original artists put forth in 1880. The objective of the design team is to unite the historic with the contemporary while subtly interweaving additional technical amenities that ensure the room's active use as a leading-edge cultural salon into the next century.
"The Veterans Room is among the most significant surviving interiors of the American Aesthetic Movement—an opulent room resulting from the collaborative work of artists and artisans led by a young, visionary Louis Comfort Tiffany and including Stanford White, Samuel Colman, and Candace Wheeler. Our revitalization of this room brings into dialogue two of the most talented designers of the 19th and 21st centuries, Associated Artists and Herzog & de Meuron," said Armory President and Executive Producer Rebecca Robertson. "Herzog & de Meuron's design responds to the room's cutting-edge founding vision, which has been diminished through the passage of time. We look forward to reopening the emboldened space to artists, educators, and our public in December, when the Veterans Room will join the Board of Officers Room as one of New York's premier cultural salons."
"What makes the Veterans Room different from all other period rooms of the Armory is its level of inventiveness and playfulness," said Herzog & de Meuron Senior Partner Ascan Mergenthaler. "It is a collage of diverse influences and inspirations, reflecting the collaborative efforts of an outstanding team of designers. Their approach on the decorative scheme goes beyond what was typical at that time and explores methods and means that are still fascinating today."
Click here to read about the Veterans Room renovation in The New York Times.